This is my story of designing KAMI RETRO and the founding of Paw Print Games.
During my time working as an animator at Traveller's Tales I started developing an iPhone game along with a few other people. It was basically a re skin of a little known game called Kami Crazy.
I had hand drawn a whole load of backgrounds and animated a massive load of sprites, and to cut a long story short, we were tired from working long days in our day jobs and working in the evenings on this project so we decided to take a break from it and make a retro style game.
It was to be another re-skin of Kami Crazy and I had to come up with an interesting graphical style to help it stand out from the other retro themed games.
It was refreshing to get away from the other project and endless amounts of drawing that I was doing and I jumped right into it.
At first I tried the usual pixel art, trying to get a nice style, but I found that this way of doing art can be quite limiting. How could I get something unique and retro at the same time?
After a few attempts more at the pixel art I had a sudden brain wave, I had been working on a style using Maya that was retro like but the problem was that I only had a 2D engine to work with.
It dawned on me that I could transfer this 3D work I was doing into 2D simply by rendering it out.
Of course this had been done before in the great game Abe's odyssey, an old classic that I used to love playing. But with this game I was working on,that we called KAMI RETRO, I was creating an older feel but with a more modern twist.
Early concept art for KAMI RETRO was working well and I had soon created many levels and animations. I found this way of working very satisfying and the results were really taking shape.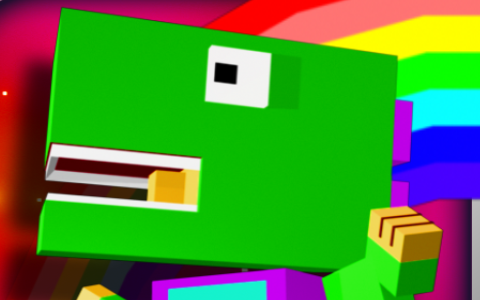 With me being the only creative type of the group I was also tasked with creating the music and sound effects. Luckily for me I had already dabbled in this area for a while and the retro music and sounds were soon coming together. There is something about the retro gaming style and sounds that I think are very appealing to many people, adding these modern twists as I did was something no one had thought to do in a iPhone game as far as I knew, so I was quite pleased with the ideas I had to make the game this way.
Development took about a year, we'd hoped to get it made sooner but it just took that amount of time. As I was the only artist and sound person I had to get every single thing that was heard or seen in the game. No easy task I must say, and after working a day job and coming home to sometimes work up until 5 in the morning it got to be very tiring indeed.
We had not got any stills or any info out to the public eye as of that point as I was very keen to get feedback from the people we'd hope to be selling KAMI RETRO to. I mean, getting feedback is very important to getting your game out there, just releasing a game into the world that nobody knows about is not the best of ideas, so I created a video for KAMI RETRO.
I created titles, added all the visuals and sounds I created and made a pretty decent video for KAMI RETRO, all edited and snappy. Something that would catch people's eye.
It worked, the feedback was great and we got contacted by publishers straight away with offers.
Not long after, 3 of us founded a company called Paw Print Games and released KAMI RETRO through Gamevil. Just goes to show how creating some graphics/sounds and a video to show them off can start something.
We got game of the week in every country apart from the U.K.
It was exciting to see the game in the charts. Unfortunately, KAMI RETRO didn't stay there too long and as soon as the feature went, so did our position in the charts.
At that point I thought I was done with KAMI RETRO, but then we had a HD version to make.
I re did every piece of artwork for KAMI RETRO in HD, it was by no means an easy task, but I got it done.
Again we released it and KAMI RETRO got game of the week feature on iTunes, but unfortunately as with the standard version, our chart position went down as the featuring.
I had created a few more demo games in my time at Paw Print Games, and created initial designs for a successful game pitch ( Wacky Rapids ) that have since changed, but I wanted to move on at that point.
I resigned from paw print games to start working on my own projects under the name Peepholecircus .
I have a few video projects on the go at the moment that I will post about in the next few months, and a couple of game projects that I hope to repeat the initial success I had with paw print games and KAMI RETRO.
More on these projects soon though.
Apologies for the lack of posts these days but I have been rather tied up with work.
more soon,
Matt.