Well last year went pretty well really. Crazy busy with everything but I like that.
I got a YouTube partnership at the beginning of the year, I enjoy making videos so that was nice to get.
I also ended up winning the NextUp contest and going to Google HQ and all that for a week. Cray times. It was great to meet some creative people for a change, people who adapt and move with current times. I get inspired by that and really it really helped me let loose a little more.
Another big event for me was finally moving back to Wales.
So much nicer here.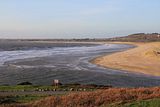 Close to the sea, not as cold as up North and to be honest, the people are much friendlier here as well (I remember the first day I was at work in Knutsford, I got stones thrown at me by some idiots at the train station, and in the evening harrassed by some weirdo eating cold beans from a tin outside Sainsbury's! went downhill from there lol!).
Anyhow...I'm looking forward to this new year, got lots of stuff to get on with and I'm pretty excited.
Here's a little new year video to get things going.
Happy new year folks : )
Matt