Are you sitting comfortably?
Yes?
Then let us begin....
The Creature From The Black Blogoon
It was a dark night on the darkest night of the year, Halloween. All but the last of the children had gone home with their bounty of sweets and money. I sat and watched the pumpkins flicker until the last of the shadows died on the porch, my stash of goodies had all been doled out and I sighed with relief at my good fortune this year.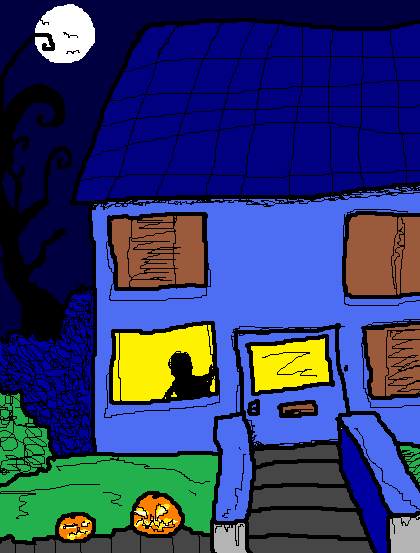 Last year was not so good.
My last house had burned to the ground on this very night one year ago. I salvaged nothing, not a single belonging. All my possessions, the massive TV, the family photo album, even the dog. Poor old Sox. Burned to a crisp in his sleep, locked in the kitchen and baked like a potato. I had left an open can of beer on the worktop, it dripped to a plug socket and sparked a huge fire.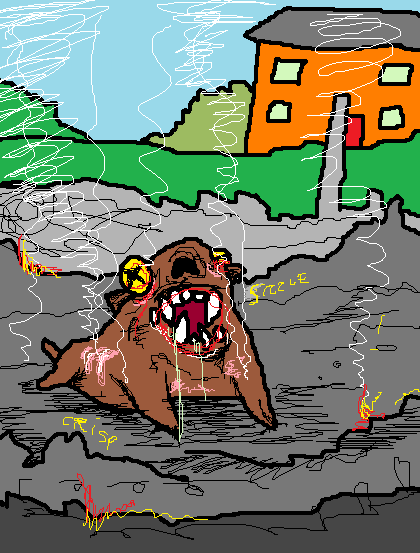 I was lucky to get out in time. Poor sox had no chance.
Well, not this year. All the treats have been handed out, not a single trick played on me or my house and it was time to enter another blog post. These special days deserve a special post. Something spooky . Maybe a poem or a short story. No, I wasn't good at stories, or poems for that matter. I shall draw a comic/story. A spooky comic/story. A spooky comic/story with ghosts and.....and....
I was stuck. Total brain melt. I wasn't good at this blog, every week I would write a blog about my dog. Although Sox had died a year ago, I never told my readers. I would make up stupid stories of how he had been learning new tricks and chasing cats. All lies.
A comic about a ghost. Yes. That was it, I locked the front door and grabbed a beer from the fridge, sat in front of my laptop and fired up Blogger and Paint.
I gulped a huge swig of beer and got going on my latest, greatest entry to date. I would call it ' The Creature From The Black Blogoon '. Yes, the title was good, comical, retro, creepy and totally in the Halloween spirit.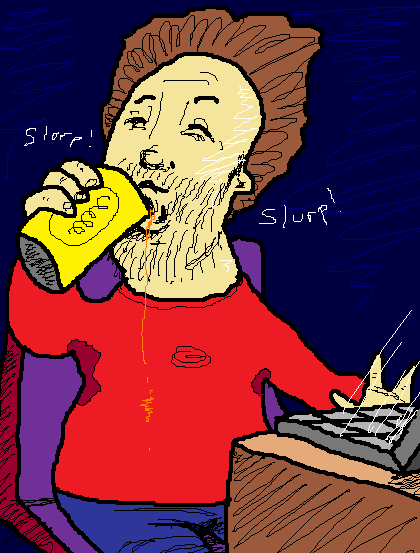 One beer led to another and before I knew it, I was half drunk. I had written nothing in hours, just trolled on the internets. I was better at getting drunk than writing this blog that was for sure,
I got up from my chair to release the pressure that was building up in my bladder. Time to call it a night, enough beer and blog, time for some sweet sleep.
Up the wooden hill I went, creaky floorboards and everything. Damn, I thought, why do I always have these creepy thoughts as I climb the stairs at night? Like someone/thing is about to grab my legs and pull me into the darkness below.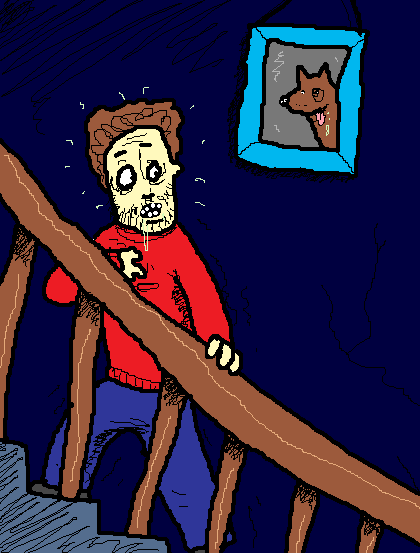 Never happened before, probably won't ever happen, but the thought was there. Enough to give me the stair climbing creeps.
Thirty seconds of tooth brushing and one empty bladder later and I was tucked up in bed. Halloween was well and truly over and I drifted slowly into a deep and peaceful sleep.
A muffled thump woke me from my slumber. The drowsy curiosity quickly turned to fearful attentive listening.
THUMP.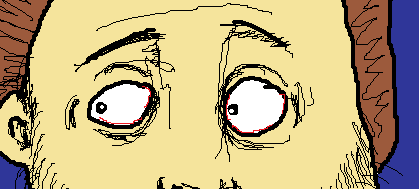 Again.
That sound again.
Something fell over perhaps, or a burgler? No, not a burgler. Not in my house. I was in a habbit of locking every door in the house. Have done since I was a child. Sox would vouch for that, he'd be alive if I hadn't locked every door in the house. What about the windows? An open window or a ...
THUMP.
There's definitely something making noises in my house. Some one I thought, not some thing. I put on my slippers and dressing gown and turned on the bedroom and landing lights. No monsters to greet me on the stairs, that was a relief. I paused at the top of the stairs, waiting to hear the sound again.
THUMP.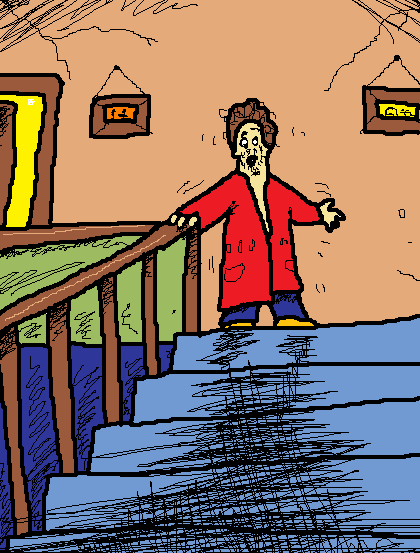 Oh crap!
It wasn't going to go away by itself. I crept down the stairs and feverishly fumbled for the hallway light switch.
Click...light.
Nothing.
THUMP.
The kitchen, the sound was coming from the kitchen. I unlocked the door and pushed it open. I could see a glistening on the floor.
Click...light.
Beer cans. Scattered on the worktop and floor, one on the floor hissing and squirting it's sweet goodness over the place. The box on top of the old fridge was open and cans were dropping out onto the worktop and floor. The fridge vibrated like crazy sometimes, I should never have put that box up there.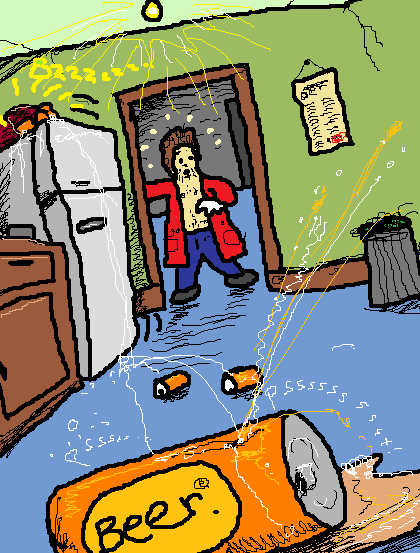 In the fridge it went, i'd clear the mess up tomorrow morning.
I turned around and did the whole stair monster routine again, only a little more tired this time around.
I got into bed once more and drifted off into the land of nod.
I was awoken once again, an hour or so later by that same terrible sound.
THUMP.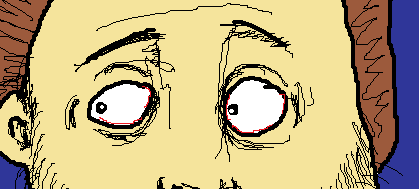 Oh dear god.
What now?.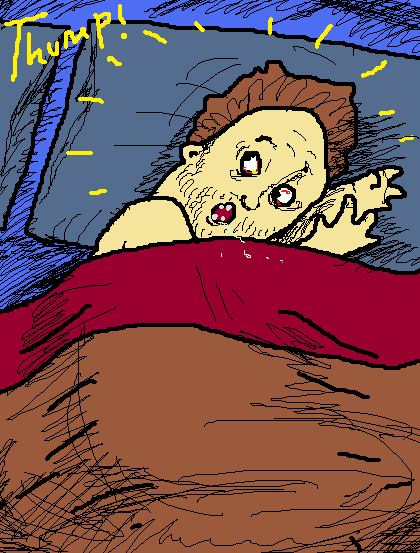 I knew it wasn't the beer cans this time. They were in the fridge.
Maybe a real life burgler this time around, or the creature from the black blogoon?
THUMP.
Again the noise.
THUMP.
Did I lock the kitchen door? I always did, but tonight I was not so sure. I had opened it and could not remember if I had re-locked it. Of all nights, Halloween, the one night of the year when you'd think I'd make damn sure.
THUMP.
That wasn't the kitchen.
That was in the hallway.
I held my breath and could hear my heart beating loud within my chest.
If there was someone in my house, they were moving this way. I lay there, fearing the worst, heart now pumping wildly, praying that the awful thumping sound would stop.
THUMP.
it didn't.
A strange smell filled the air, it wasn't me, bacon... No, pork?. What was that strange odour. I sat upright, grasping my quilt for dear life. The strange thumping sound getting nearer. I could not believe this was happening to me, this just could not be happening.
The thumping sound turned into a creak. The stairs, it was moving up the stairs. The smell was stronger, now a vulgar stale rotting stench that gripped my nostrils and dried my eyes.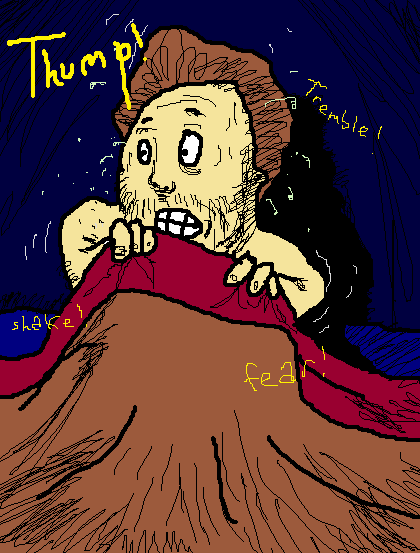 Step by step, it was getting closer.
The images that flashed through my head, wild fantastic demons of the night, and here I was, on Halloween night, struck still with fright, awaiting this most unwelcome of visitors that was creeping slowly up my staircase.
'Go away!' I shrieked.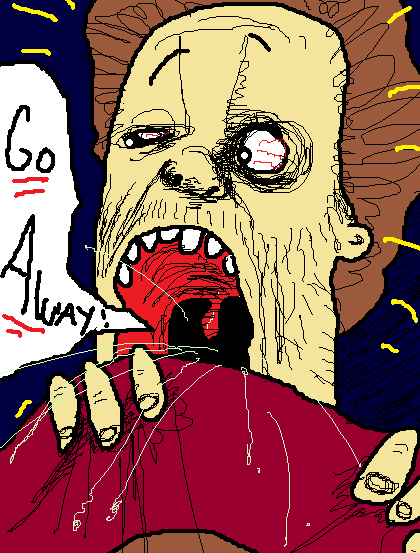 It said nothing and crept past the top stair and continued its slow but unrelenting pace towards my bedroom door.
AlI could do was wait. Wait for it to open my door and reveal itself. And after what seemed to take forever, it was here, right outside my door.
My unlocked bedroom door.
With a sudden burst of self preservation I leapt out of bed and reached for the key in the door.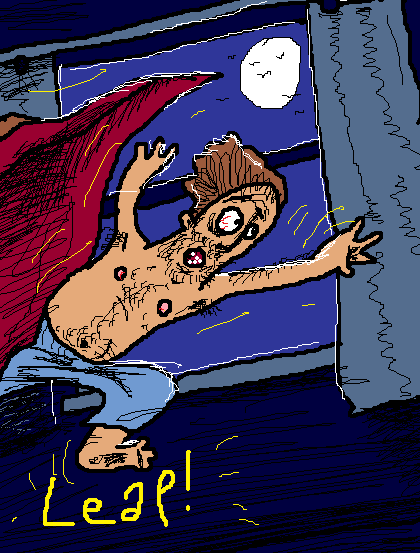 As I did so the door opened before me and I stood there in the dark, arm outstreched to the the blackness.
Nothing.
There was nothing there.
I froze again, unable to take control of my body. And then, I saw it. Moving in the shadows. An awful crispy mess, a hideous shape that drooled and grunted like a deranged mutant. And there, in it's gaping mess of a mouth was a can of beer.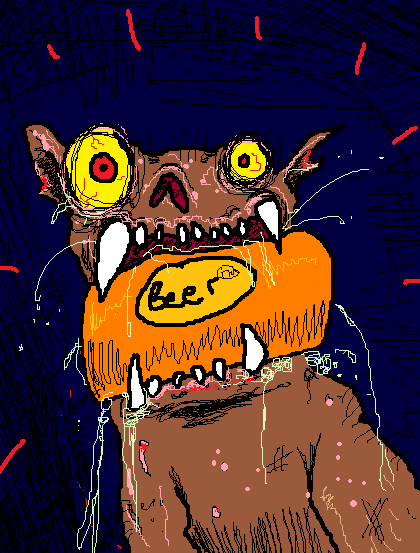 THUMP.
He dropped it on the floor.
That's what that noise was? He couldn't hold on to the can for long in his grotesque slobbering mouth.
It was Sox, back from the dead. Bringing me a can of beer. Tormenting me for locking him in that kitchen a year ago. Back to seek revenge for his awful burny death by beer and fire.
As it picked up the can again and moved closer I collapsed with fear and in my last moments of consciousness I saw him maneuver above my face and drop the can.
And then...darkness.
I woke up in a hostpital ward, in severe pain. I was covered in burns and had a round indentation on my forehead.
I had been rescued by the fire brigade, my house had burned down and I had lost everything, again. The fire had started in the kitchen, beer had leaked onto a plug socket and started a chain reaction. At least that's what they told me.
But I knew different, I knew it was the dog. Sox.
He wanted revenge.
Would this be the last I saw of him? I would have to wait until next year to answer that question.
I dared not speak of what happened. I dare not utter his name out loud ever again.
All I knew was that out there, in the dark, that crispy dog wanted me dead. And I would never sleep well ever again.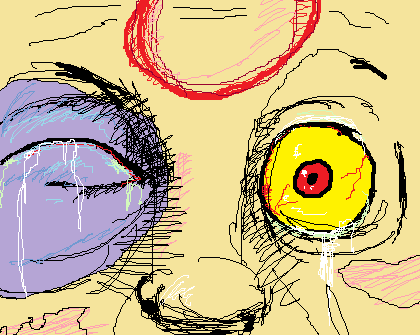 The End.
Happy Halloween folks
: D